Confined spaces incidents have long been one of the top statistical leaders for worker fatalities and accidents in our country.  The Department of Labor reported 481 deaths in this country from 2005-2009.  Confined space areas like crawl spaces, manholes, and sewers are not designed for working in for long stretches of time.  Workers that operate in confined spaces are exposed to many hazards including asphyxiation, cave-ins, electrocution, explosions, and exposure to toxic substances.  Construction workers often perform high risk jobs in confined space areas where it is difficult to exit in case of emergency and even higher difficulty in performing a rescue. Here is a summary of the new regulations for working in Confined Spaces:
OSHA added detailed provisions requiring coordinated activities when multiple employers are present at a work site. OSHA intends that this new rule will ensure hazards are not introduced into a confined space by workers performing tasks outside the space.
OSHA regulations will now require a competent person to evaluate the work site and identify confined spaces, including permit spaces, prior to commencing work.
The new regulations will require continuous atmospheric monitoring whenever possible.
Likewise, the new regulations will require continuous monitoring of engulfment hazards.
Also, permits may be suspended, instead of cancelled, in the event the entry conditions listed on the permit change or an unexpected event requiring evacuation of the space takes place. Before re-entry, however, the space must be returned to the entry conditions listed on the permit.
As noted above, provisions were included to clarify existing requirements as set forth in the general industry standards. These clarifications include:
Employers who direct workers to enter a space without using a complete permit system are required to prevent the workers' exposure to physical hazards via methods that eliminate or isolate the hazards through methods such as lock out/tag out.
Employers relying on local emergency services must arrange for those responders to give the employer advance notice if they will be unable to respond for a period of time (e.g., because the responders are handling another emergency, attending training, etc.).
Employers are required to provide training to workers in a language and vocabulary that the worker understands.
The new rules went into effect on August 3, 2015.  Feel free to call ProActive Safety Services for further questions regarding confined spaces.
Reference: OUT IN FRONT Newsletter; Adams and Reese, LLP, New Orleans, LA @2015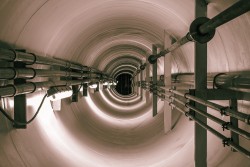 https://proactivesafetyservices.com/wp-content/uploads/2015/01/ProActiveSafetyServices.jpg
0
0
ProActiveSafety
https://proactivesafetyservices.com/wp-content/uploads/2015/01/ProActiveSafetyServices.jpg
ProActiveSafety
2016-02-05 11:24:37
2018-10-04 00:26:26
Confined Spaces and New Regulations