Operating a thriving renovation business is exciting and challenging.  Each day presents a unique opportunity and obstacle to overcome.  If the year of construction on any residential renovation project is before 1978, your firm has even more responsibility.  Your responsibility isn't simply a certificate or attending a training class.  When you take on renovations in homes built prior to 1978, you have several things to consider.  Especially, your firm responsibilities.
First and foremost, you have to get your firm certified.  This is the easiest part of the process.  Simply go to www.epa.gov/lead/getcertified,  complete the application, and pay your fee, simple.  After you take care of the firm certification you have to be prepared to work lead-safe.
Identify any employee that will perform work that will disturb surfaces.  If you will ever send them out to work alone, they need to attend an 8 hour Lead Renovator Initial Course.  The rest of your workforce can be trained on the job by the Certified Renovator you designate to manage the project.
Once you take care of the training, you will need to work with your trained workers to develop specific procedures for your company when you have a project in which the construction date is prior to 1978.  We recommend that you develop procedures that will provide either photographic or video evidence of your cleaning verification procedures.  Oftentimes, you will be working in environments that are already poisonous.  If you are the last company to complete a renovation at the property, and a family member ends up with an elevated blood lead level, who do you think they will blame? I doubt they will take into consideration that they have potential lead based coatings failing or that they decided to take on a do it yourself project.  If you don't take the time to get visual evidence that you followed the RRP rule, it will be your word versus your clients'. Take the time to develop your way of working in pre-1978 housing, and make sure everyone that works for you understands what is expected.
After you get your procedures in order, make sure that you assign a certified renovator to manage every applicable project.  Use the sample record keeping checklist prior to starting the project.  Have your Supervisor fill it out when the Renovate Right booklets are distributed.  This will give you either seven or fifteen days to get the supplies you need to work safe.
Develop a custom daily Job Safety Analysis that includes check boxes to ensure that you are in compliance, compile a master certificate file, and a master file that you can print when you start a new project.  The master file should include all the paperwork needed to stay in compliance, which includes:
Firm Certificate
Employee Certificates
Pre-renovation Certification
Record keeping Checklist
Lastly, please make sure any employee that will work on RRP projects understands that their greatest responsibility is to control the dust.  They all need to understand that controlling the dust doesn't stop at the the barrier entry door.  They have to develop a habit to make sure they don't carry lead contaminated dust into their vehicles, homes, or any place they go after work.  We strongly encourage that you require every employee to bring a change of clothes each day to make sure that they don't carry dust home with them.
Recent studies suggest that there isn't any safe level of lead for any human. Take that into consideration when establishing your procedures.  Set the tone, be a leader in lead safety.  Everyone deserves to be protected!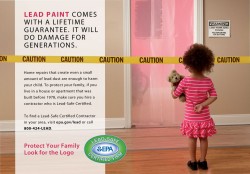 https://proactivesafetyservices.com/wp-content/uploads/2015/01/ProActiveSafetyServices.jpg
0
0
ProActiveSafety
https://proactivesafetyservices.com/wp-content/uploads/2015/01/ProActiveSafetyServices.jpg
ProActiveSafety
2016-01-29 01:18:36
2018-02-01 15:37:21
EPA RRP Firm Responsibilities