When you think of construction workers, you probably don't imagine them doing housekeeping. The fact is, however, that housekeeping is one of the most important ways to keep construction sites, and those who work on such sites, as safe as possible.
Of course, workplace housekeeping is necessary in all work environments—from offices to factories to manufacturing plants—not just construction sites. What follows are some important housekeeping tips to keep your workplace safe. Here is a summary of housekeeping 101 for the workplace:
To prevent slips, trips, and falls, make sure that spills and leaks are promptly and completely cleaned up. The floors of aisles and exits need to be clear of extraneous items; damaged, ripped or worn floors need to be replaced; use drip pans and guards; and install anti-slip flooring. All workplace flooring needs to be free of nails, holes or loose boards.
Clutter can cause injuries because workers cannot move around the way they should. Keep all work areas, stairways, and emergency exits free of clutter. Always empty trash cans before they begin to overflow. Never use work areas for storage.
Combustible materials must always be storied in covered metal containers and disposed of each day. The National Safety Council lists several other precautionary measures to prevent fires. These measures include changing clothes that become contaminated with flammable liquids; keeping materials away from automatic sprinklers, sprinkler controls, and fire extinguishers; and reporting hazards in electrical areas straightaway.
Make sure that you control dust as dust accumulation poses an explosion hazard. Vacuuming is the best way to control dust. Sweeping, water wash-downs, and compressed air or steam blow-downs are also options.
Clean and maintain work-area mats. Such mats prevent the spread of hazardous materials between work areas.
Install rails, boards, or nets to prevent objects from falling on people or equipment.
Inspect personal protective equipment and tools on a regular basis. Replace or discard damaged equipment or tools right away.
Put it in writing. Housekeeping tasks need to be put in writing and displayed where all workers can see these tasks. Make sure there are detailed instructions for each task. For example, state which cleaners or methods should be used for each task or work area or surface.
Housecleaning is crucial to a safe workplace. That is why it is so important that employees and management know what is expected to make sure everyone remains safe while at work.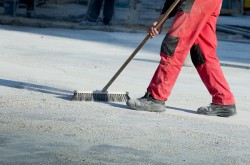 https://proactivesafetyservices.com/wp-content/uploads/2015/01/ProActiveSafetyServices.jpg
0
0
ProActiveSafety
https://proactivesafetyservices.com/wp-content/uploads/2015/01/ProActiveSafetyServices.jpg
ProActiveSafety
2016-03-29 16:45:14
2016-08-24 11:05:04
Housekeeping 101 for the Workplace