Everyday we strive to create work environments free from accidents and injuries. Unfortunately, accidents and injuries happen despite our best efforts. Knowing what to report and what not to report is crucial in maintaining compliance with OSHA.
What Types of Injuries Need to Be Reported?
A lot of people have questions about what type of accident is required to be reported to OSHA. Any injury that goes beyond basic first aid, meaning if a worker was injured and had to be admitted to the hospital overnight, this is reportable. Once the employee is admitted for in-patient care at a hospital for more than 24 hours the incident is now required to be reported. There are several scenarios to consider before reporting an injury. We strongly recommend that you call us at 877-209-9648 if you have questions about reporting.
If a worker goes to see a doctor and the doctor says that the worker is fine and no prescriptions or work restrictions are given, then this is no longer a reportable incident. Workers kept over night just for observation, may not be a reportable incident.
A work related incident where there is an amputation involved must be reported and is an OSHA reportable. There has been clarification given on the loss of a finger tip, if the tip of the finger has been amputated in a work related incident it is reportable. It does not have to take bone off to be classified as an amputation, if unsure whether it is classified as an amputation seek a licensed physician's opinion. Medical amputations due to damage must also be reported.
A worker that has been in an accident and has lost an eye, is reportable to OSHA. It is not reportable if the worker has lost his or her sight however, if they are admitted to the hospital for that loss of sight it now becomes a reportable incident.
In the event of a workplace fatality OSHA requires that this be reported within 8 hours by phone, or in person to OSHA. A reportable incident other than a fatality should be reported within 24 hours. Very soon OSHA will have the ability to submit this report via their website. Not reporting these items to OSHA can have legal consequences.
In conclusion there are incidents that will happen in the workplace that are OSHA reportable. If you are unsure still if something is OSHA reportable please call us by dialing 877-209-9648 or email sales@pasafety.com.
Has anybody been on a job site where there was an OSHA reportable incident? What happened? Could it have been prevented?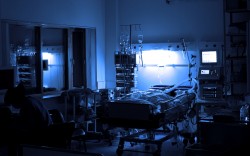 Disclaimer: The information and suggestions contained in these safety talks are believed to be reliable. However, the authors of the topics and the owners of this web site accept no legal responsibility for the correctness, sufficiency, or completeness of such information or suggestions contained within these topics. These guidelines do not super cede local, state, or federal regulations and must not be construed as a substitute for, or legal interpretation of, any OSHA regulations
https://proactivesafetyservices.com/wp-content/uploads/2015/01/ProActiveSafetyServices.jpg
0
0
ProActiveSafety
https://proactivesafetyservices.com/wp-content/uploads/2015/01/ProActiveSafetyServices.jpg
ProActiveSafety
2015-12-21 21:45:24
2016-08-24 11:07:52
Is it OSHA Reportable?