Working at night is never ideal for those in the construction industry. However, many times it is a necessity, especially when the job being performed disrupts traffic.
There are several advantages to completing construction jobs at night. These include reduced traffic, easier access to the work site and cooler temperatures if the work is being performed in the hot summer months. Of course, there are disadvantages, as well. These include reduced visibility, staffing issues, worker alertness, impaired or reckless drivers.
According to the Census of Fatal Occupational Injuries, the most common causes of fatalities in the twilight or nighttime hours on construction sites are:
General traffic vehicles entering a work area
Impaired drivers
Workers stepping into path of traffic vehicles
Safety equipment not being used
Workers struck by machine parts
Backing
In order to reduce injuries and fatalities while working at night, it is vital that safety training take place to make sure that workers know how to remain safe around both construction and traffic vehicles. It also is imperative that signs and warnings are properly posted around any nighttime construction sites to make sure that drivers are aware of construction taking place. Such signs and warnings include:
Arrestor nets and intrusion alarms
Changeable message signs
Channelizing device types and device spacing
Crash cushion
Delineation
Flashing arrow panels
Impact performance and ballast
Pavement marking
Reflective lights and clothing
Rumble strips
Shadow vehicles with truck-monitored attenuators
Temporary signals
Traffic barriers
Traffic control devices
Warning lights
Of course, the greatest drawback to working at nighttime job sites, is lighting issues. Making sure that the job site is well lit is perhaps the most important consideration on such sites. A lighting plan that meets the specific needs of a particular job site must be created and include things like illumination requirements by task and criteria.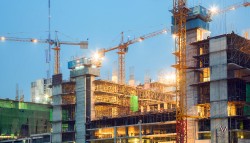 https://proactivesafetyservices.com/wp-content/uploads/2015/01/ProActiveSafetyServices.jpg
0
0
ProActiveSafety
https://proactivesafetyservices.com/wp-content/uploads/2015/01/ProActiveSafetyServices.jpg
ProActiveSafety
2016-03-17 10:24:26
2016-08-24 11:17:06
Staying Safe on Nighttime Job Sites