It is no surprise that falls are leading cause of work-related injuries and fatalities among roofers. In order to prevent accidents, fall protection training is essential for all roofers. Without such training, there is a much higher risk of injuries or deaths due to a lack of fall protection, damaged equipment or improper setup. Roofer safety training is important!
Fall protection training for workers will cover the wide range of safety equipment that can be used to keep roofers safe. This equipment ranges from personal fall arrest systems to guardrail systems to warning lines to safety monitors and more.
Training will also provide detailed information on the different types of ladders that are used during commercial roofing jobs, including extension ladders and stepladders. Various cover systems also need to be addressed since these systems are designed to protect workers from falling from holes or openings in roofs, such as skylights.
While roofing safety may seem fairly straightforward, the fact is that there are several aspects of roofing issues that must be addressed. Here are just a few of the issues a comprehensive roofing safety trainer will cover:
What type of personal protective equipment needs to be worn
What type of roofing material will be used and the inherent dangers posed by each type of material
Tools used as part of the roofing project, including nail guns, generators, air compressors, shingle strippers, tin snips and power saws
Hazardous chemicals workers may come into contact with such as asbestos, lead and silica
A qualified trainer also will make sure that everyone on a roofing job site is well acquainted with the required Emergency Action Plan (EAP). An EAP provides workers with specific guidelines on how to report emergencies, as well as procedures for evacuating the area. Further, when there is no hospital, clinic, or medical clinic nearby, there must be someone onsite who is certified in first-aid.
Roofers are also susceptible to the elements such as extreme heat or cold and are at the mercy of other weather conditions. Therefore, it is vital that all workers on a roofing site are well aware of how the elements can impact a roofing job. High winds can knock workers over and rain can make surfaces slippery, for example.
With all the risks involved in roofing jobs, it is vital that roofers and their employers are well-versed in safety measures. Only then can roofers be kept as safe as possible. Of course, the first step is for employers to provide the best training possible for their employees and to continue to offer training on a regular basis.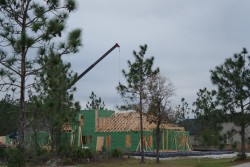 https://proactivesafetyservices.com/wp-content/uploads/2015/01/ProActiveSafetyServices.jpg
0
0
ProActiveSafety
https://proactivesafetyservices.com/wp-content/uploads/2015/01/ProActiveSafetyServices.jpg
ProActiveSafety
2016-01-09 17:10:41
2016-08-24 11:19:04
The Importance of Roofer Safety Training