Slips and falls due to icy conditions are all to common in the
workplace. Many people have fallen victim to this hazard so lets go over a few things to help you minimize the hazard.
When walking on icy surfaces:
Wear good waterproof boots that have good tread on the bottom. This can greatly reduce your risk of slipping on ice.
Keep your steps short, meaning closer together. This will give you better balance and a chance to keep yourself from falling.
Remove snow from all walkways as well work areas with a snow shovel or a plow. This can help keep ice from building up underneath the snow.
After snow removal, spread salt deicer to melt the ice to help remove the potential hazard.
Provide handrails for walking and working surfaces.
Plan ahead, or leave a few minutes early, so that a worker can walk at a slower pace. Speed walking will greatly increase the risk of a slip on ice.
The best solution is to spread awareness that if you are uncertain if there is ice to step with caution. Keep your steps closer together, as well as using handrails when available. The best case scenario is to have the snow and ice removed as much as possible. Can anyone contribute a time that walking on icy conditions was involved in your work?
Can anyone recall a near miss or accident that could've been prevented?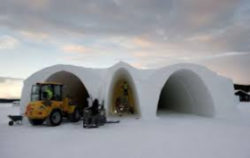 https://proactivesafetyservices.com/wp-content/uploads/2015/01/ProActiveSafetyServices.jpg
0
0
ProActiveSafety
https://proactivesafetyservices.com/wp-content/uploads/2015/01/ProActiveSafetyServices.jpg
ProActiveSafety
2015-12-01 14:02:44
2016-08-24 11:19:30
Walking on Icy Surfaces