The sources of workplace amputations involve numerous activities and equipment. Amputations are some of the most serious and debilitating workplace injuries.
Amputations occur most often when workers operate unguarded or inadequately safeguarded machinery. The following activities also expose the worker to possible injuries: setting up, threading, preparing, adjusting, cleaning, lubricating, and maintaining machines.
What types of machine components are dangerous? The area of a machine where it performs work on material also known as the Point of Operation. Any power transmission apparatuses such as flywheels, belts, chains, couplings, spindles, or gears.  Any other moving part is also considered dangerous.
Employers should be able to recognize, identify, manage, and control amputation hazards most commonly found in the workplace.  Employee training, work practices, and administrative controls can all be used to help prevent and control amputation hazards.
Amputation Fact: Authorities say a man is hospitalized after his arm had to be amputated following an accident at a Phoenix sand, rock and gravel business. Phoenix Fire Department officials say the man's arm became caught in a conveyor system about 9:30 a.m. Monday at Sun Land Materials LLC near Southern and 69th avenues. Officials say the man is a construction worker at business. Paramedics were able to stabilize the man and two extrication units were called to the scene to remove large piece of equipment that the man was entangled in. Authorities say it was determined that a field amputation of the man's arm was necessary. Fire officials say he was conscious for the whole procedure.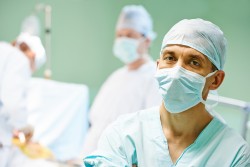 Disclaimer: The information and suggestions contained in these safety talks are believed to be reliable. However, the authors of the topics and the owners of this web site accept no legal responsibility for the correctness, sufficiency, or completeness of such information or suggestions contained within these topics. These guidelines do not supercede local, state, or federal regulations and must not be construed as a substitute for, or legal interpretation of, any OSHA regulations.
https://proactivesafetyservices.com/wp-content/uploads/2015/01/ProActiveSafetyServices.jpg
0
0
ProActiveSafety
https://proactivesafetyservices.com/wp-content/uploads/2015/01/ProActiveSafetyServices.jpg
ProActiveSafety
2015-08-24 10:47:45
2016-01-24 08:29:21
Workplace Amputations