An effective HAZCOM program can make a difference in the quality of life of the employee. OSHA mandates that every worker must know about all of the hazards of each chemical in the workplace, or on the jobsite.
The first step in establishing an effective HAZCOM program is to take inventory of all chemicals, solvents, and solutions that employees use. This means all chemicals that we work with, from WD-40 to PVC cement, must be documented. All chemical labels shall be present and clear to read and understand. All chemical SDS sheets must be compiled and stored in an area that is easily accessible to employees. A common way of doing this is to have a binder of SDS sheets set out in a common place of the facility.  Another way to store the SDS sheets is to download digital files on a network.  The SDS sheets need to be in the new GHS format.  OSHA requires that all employees are trained on the new GHS standard before July 2016.
The GHS standard requires that a chemical inventory must be kept and maintained.  A designated employee shall be named to be in charge of the program and oversee that it is maintained and followed. This program should name a system for new chemicals coming into the facility that need SDS information found for them. Training of employees must be outlined within this program. Training includes identification of risk of exposure, proper handling and storage, proper PPE, fire fighting measures and what to do in case of a spill. All chemical containers, both bulk storage and portable containers for ease of use, must be labeled with the contents and exposure hazards for the chemicals they hold.
An effective HAZCOM program can help eliminate employee exposure to hazardous chemicals.  Training and awareness are critical in protecting employees from workplace accidents caused by chemicals. Can anyone contribute a time that hazard communication was involved in your work?   Can anyone recall a near miss or accident that could've been prevented?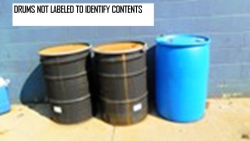 https://proactivesafetyservices.com/wp-content/uploads/2015/01/ProActiveSafetyServices.jpg
0
0
ProActiveSafety
https://proactivesafetyservices.com/wp-content/uploads/2015/01/ProActiveSafetyServices.jpg
ProActiveSafety
2016-02-10 10:02:40
2016-08-24 11:02:33
Hazard Communication