Digging or excavating trenches carries with it the risk of injury or death. From 2000-2009, 350 workers died in trenching or excavation cave-ins. In order to minimize these risks, it is vital that the proper safety precautions are taken. Never underestimate the danger of a trench!
Most cave-in fatalities occur during work with water, sewer, pipeline, and communications and power-line construction. The greatest number of fatalities occur when workers enter an unprotected trench and the walls collapse.
According to the Occupational Safety and Health Administration (OSHA), more than 60 percent of cave-in deaths occurred in trenches less than 10 feet deep. Unfortunately, there is no reliable warning when a trench is about to fail and the walls can collapse before a worker has time to escape.
Contrary to what many people believe, even small amounts of dirt can be dangerous. For example, one cubic yard of dirt can weight more than 3,000 pounds and is capable of fatally crushing or suffocating a worker. Further, small solid pieces of dirt can cause serious injuries.
The following factors can affect soil stability and thereby increase the danger of trench work. These factors include the type of soil, water content of soil, proximity to previously backfilled excavations, weight of equipment and tools, and vibrations from machines or vehicles.
Failure to use a protective system is the leading cause of trench-related fatalities. OSHA requires that excavations five feet deep or greater use one of the following protective systems:
Sloping the ground
Benching the ground
Shoring the trench with supports such as hydraulic jacks
Shielding the trench with a trench box
OSHA has several recommendations that should be adhered to during the planning stages of an excavation job, as well as during the actual job. These recommendations are vital to the health and safety of all workers in and around trenches. Construction companies and clients should also insist on trench safety practices for any commissioned work and place trench safety into any and all bid documents and contractor qualifications.
Although keeping trench workers and excavators safe involves a great deal of planning, precautions, monitoring and safety training, there are some general guidelines all workers should keep in mind before beginning any excavation job. These include the following:
Never enter an unprotected trench, even to perform a quick task or for a short amount of time
Always inspect a protected trench before entering
Exit the trench immediately and call the proper safety manager if you see or suspect a problem with a trench protective system
Do not assume there will be a warning sign before a cave in
Do not assume you will have time to move out of the way in the event of a cave in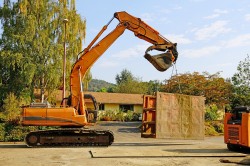 https://proactivesafetyservices.com/wp-content/uploads/2015/01/ProActiveSafetyServices.jpg
0
0
ProActiveSafety
https://proactivesafetyservices.com/wp-content/uploads/2015/01/ProActiveSafetyServices.jpg
ProActiveSafety
2016-01-10 15:14:42
2016-08-24 11:17:17
The Danger of Trench Work Cave-Ins